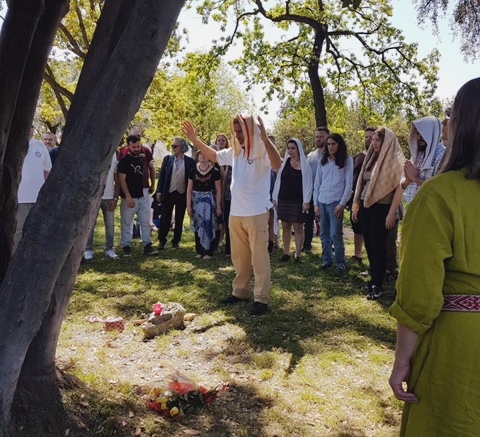 Ecco il video della cerimonia celebrata dai rappresentanti delle religioni etniche d'Europa sul sacro colle Palatino il giorno del Natale di Roma MMDCCLXXI.
Organizzato dal Movimento Tradizionale Romano, ed aperto dalle invocazioni benauguranti alla Dea Roma e agli Dei Superi  dal presidente Daniele Liotta e del responsabile della Societas Hesperiana, Federico Fregni, il rito ha visto la partecipazione di tutti i gruppi etnici con i loro canti, inni e preghiere.
Hanno partecipato Agnija Saprovska, Ramants Janson e Daris Jansons, Foundation Maras Loks (Lettonia), Goedele Janssens, Joris De Vriendt e Michel Hubert, Traditie (Belgio), Nina Bukala, Traditie (Olanda), Sandra Keuper, Asatru (Germania), Zdenek Ordelt, Nami Lada e Marianna Gorronova, Slavonic Circle (Repubblica Ceca), Øyvind Siljeholm, Ravn Villtokt e Skade Villtokt, Forn Sed (Norvegia), Christoffer Skauge Eid, Sjamanistisk Forbund (Norvegia),  Jean Lionel Manquat e Jean Marc Duvette, Druidic Group of Gaul (Francia), Vlassis Rassias e Konstantine Malliaros, Supreme Council of Ethnikoi Hellenes – YSEE (Grecia), Halyna Lozko e Shaposhinikov Vadym, The Association of the Believers of the Ukrainian Native Faith (Ucraina), Inija Trinkuniene, Irena Balkune, Romuva (Lituania), Prudence Capelle Romuva (Stati Uniti d'America), Miroslav Kiselev e Svetozara Pronina, The Union of Slavic Communities of the Slavic Native Belief (Russia), Stanislaw Potrzebowski e Olesia Sinczuk, Rodzima Wiara (Polonia), Andras Corban-Arthen, The EarthSpirit Community (Spagna e Stati Uniti d'America), Eleonora Stella, Societas Hesperiana (Italia), Edoardo Paulin, oltre naturalmente ai membri del Movimento Tradizionale Romano Paolo Casolari, Italo Linzalone, Pietro Rosetti, Ermes Paparoni, Marco Felli, Fulvio Noja, Gregorio Lo Coco, Sandra Mazza, Marina Simeone.